Download our PDF Preset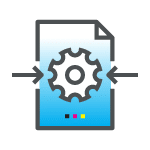 The easiest way to export a Print Ready PDF is by letting our PDF Preset do the work for you. Start by choosing which Adobe application you would like to install it through. (You only have to install it in one application to make it available in all of your Adobe Creative Suite Programs.)
*Use our PDF Preset instead of any default Adobe PDF Presets (the most commonly used in printing is a Press Quality PDF). The Adobe Presets will not save bleed, convert color correctly, or place crop marks in the right spot.
SC High Res Setting
• Booklet designs are exported as Pages
• Establishes proper image compression printing needs
• Bleed amount is already set
• Crop mark Offset is set to the outside of the bleed margin
• Allows you to only send a PDF instead of the native file
Download + How To Directions
Each page includes a Preset Download, Installation Directions, and Saving Directions.